WVAND Annual Conference 2018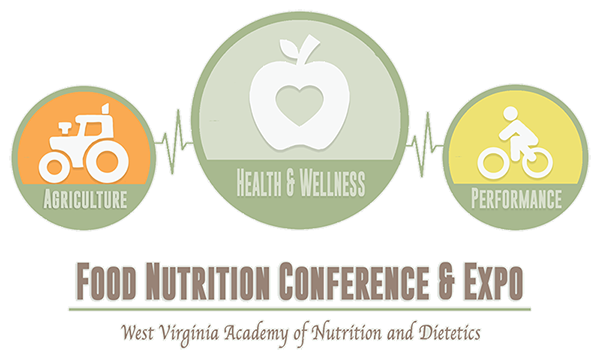 The West Virginia Academy of Nutrition & Dietetics - Food Nutrition Conference & Expo provides attendees with an engaging educational experience, showcasing updates in the field, and highlighting areas impacting the Mountain State. We are looking forward to connecting YOU with the educational resources, engaging speakers, to cultivate our profession, and the health and vitality of our communities.
The broad range of conference sessions will be of interest to Registered Dietitian Nutritionists and other allied health professionals in health care, public health, school nutrition, sports nutrition and nonprofit organizations and individuals involved with nutrition focused health outcomes.
Meeting location: The Morgantown Marriott at Waterfront Place
The meeting will be held April 5th and 6th, 2018 at the Morgantown Marriott at Waterfront Place in Morgantown, West Virginia.



A room reservation block will be held until March 16th, 2018 for meeting participants. Book your hotel early, to receive the best rates.
Continuing Professional Education
This program has been approved for 18.5 CEU by the Commission on Dietetic Registration for Registered Dietitians and Dietetic Technicians, Registered.Electronic copies of the CEU certificates will be made available to conference attendees.
| | |
| --- | --- |
| April 4th, 2018 - Pre Conference workshop | 4 CEU's |
| April 5th, 2018 - Conference | 6.25 CEU's |
| April 5th, 2018 - Poster Session | 1 CEU's |
| April 6th, 2018 - Conference | 7.25 CEU's |
| April 5th and 6th, 2018 - Nutrition Focused Physical Examination Training | 4 CEU's |
Visit the WVAND Website:
www.eatrightwv.org/meeting2018
The WVAND website contains details on the meeting schedule, speaker biographies, speaker handouts and more. Check back often as updates on continuing education, job openings, recipes and other content is updated regularly.
Go-Green:
Conference speaker materials will be available online for download, prior to the meeting. We will continue to "Go-Green" and have a master conference guide at the registration desk, but will not have handouts printed for meeting participants.
Pre-Conference Workshop
The Sports Nutrition Workshop will engage participants in understanding the knowledge requirements for the Commission on Dietetics Registration CSSD Board Exam requirements through engaging sessions, demonstration of services, and tour of WVU Athletics Sports Nutrition facilities. A box lunch will be provided.
Research Poster Session
Check out the cutting edge research of nutrition and public health professionals in the state!
Nutrition Focused Physical Assessment (NFPE) Training
Dietitians from Abbott Nutrition will lead this interactive, hands-on NFPE training. The 4 hour workshop will provide RDNs with the skills and knowledge necessary to perform NFPs at their clinic, hospital, or patient center to aid in the diagnosis of malnutrition. There are 2 opportunities for credentialing; participants should only register for 1. After attending the NFPE Hands-On training workshop, the RDN will be able to:
Recognize the role of the NFPE in identifying malnutrition
Assess muscle wasting and fat loss
Evaluate the presence of edema or fluid accumulation
Identify clinical signs of micronutrient deficiencies and toxicities
Measure functional status using hand grip strength dynamometer
Demonstrate basic NFPE skills on actual patients.
WVAND Expo

Vendors and exhibitors
Academy of Nutrition & Dietetics - practice booth

Learn more about didactic practice groups, advanced practice opportunities within CDR and more!

Farmer Appreciation booth:

Get your WVU Extension calendar and write a note of appreciation to our farmers!

WV AgriCULTURE Market

Visit the WV Artisan market to try some Appalachian cuisine, pick up some crafts and fresh produce!
Academy of Nutrition & Dietetics Foundation - Silent Auction
This silent auction benefits the Academy of Nutrition & Dietetics Foundation. The AND Foundation provides resources to nutrition and dietetic professionals and students to extend nutrition education to the community. Stop by the table, show your support and gift baskets from our amazing Sponsors!
Healthy Food Drive
The WVU Student Association of Nutrition & Dietetics will facilitate a healthy food drive to benefit area food pantries. Please bring a healthy canned good to donate to our community.
Puddin' and the Grumble Play
The Landmark Youth Theatre Ensemble (LYTE): Landmark Studio for the Arts from Sutton WV- will present the play - "Puddin and the Grumble" to tackle the issue of childhood hunger. Donations will be presented to the Mountaineer Food Bank in Gassaway WV and area food pantries.
Dietetic Social
Mingle with other wild, wonderful dietetic folk! Meet dietetic colleges, make new friends, and enjoy the views of Morgantown!
Local Dining & Activity Guide
Check out our local dining & activity guide for locally sourced fare and activities.
Questions or comments:
Please contact the Council on Professional Issues Chair or Council on PRofessional Issues Chair -elect should you have any questions, comments, or concerns
For more information on Morgantown, WV - please visit http://www.tourmorgantown.com