What is a Registered Dietitian?
A Registered Dietitian (RD) is a highly qualified health care professional educated in nutrition and foods. An RD has a Bachelor of Science or a Master of Science degree in human nutrition or dietetics and has successfully completed a dietetic internship and passed the registration examination administered by the American Dietetic Association. An RD receives specific education and training to provide medical nutrition therapy and nutrition counseling to promote optimal nutrition, health and well-being.
There are several types of dietitians including management dietitians, clinical dietitians, community dietitians, educator dietitians, research dietitians, consultant dietitians, and business dietitians. RD's are recognized experts in food and nutrition who work in a variety of settings. These setting include hospitals and health care facilities, schools and universities, government and commercial agencies, business and industry, and private practice settings.
---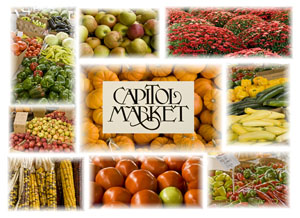 Five Reasons to Visit Your Local Farmers' Market:
You are supporting local farmers
Fresh produce (with lots of variety from different vendors)
Less energy is used in getting the produce to the market
It's a good opportunity to socialize with others in the community
It's cheaper!
Be sure to check out some of our favorite Recipes